Powertex students and beginners are sometimes surprised to find their creations can go outside. I'm answering a few questions in this article about using Powertex to create outdoor projects.
Using Powertex for outdoor projects
Powertex Universal Medium is weatherproof when cured which takes three weeks. Create your mixed media art in the usual way and use Powertex Universal Medium (Fabric Hardener) and Easy Varnish with colour pigments to ensure they are weatherproof. Note that submerging Powertex projects in water is not recommended, it is considered weatherproof not waterproof. For best results use 100% natural materials, such as cotton fabrics and natural fibres, wood, cork etc.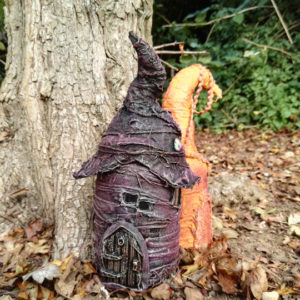 Which Powertex mediums can I use for outside?
All the colours of Powertex Universal Medium (Fabric Hardener) are weatherproof in their natural cured state except Transparent. I personally recommend to my students that they don't use Transparent for outdoor projects, even with a weatherproof varnish.
Use your Powertex with natural materials such as wire frames, wood, natural fabrics, fibres and metal embellishments. Powertex Universal Medium should be left to cure for three weeks before being put outside.
This moon gazing hare was made with Stone Art clay but was coated completely with Powertex Bronze over the textures and then dry brushed with a mix of Powercolor pigments and Easy Varnish. Stone Art or other clay should be completely dry before applying coats of Easy Varnish.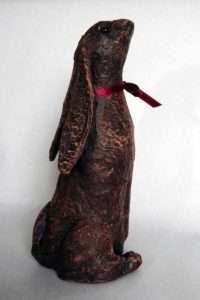 How do I get a weatherproof finish with Powertex?
Using Powertex Universal Medium on it's own will be weatherproof but what if you want to add paint or colour? Well you're in luck because Powertex Easy Varnish is also weatherproof. Mixing your paints from Easy Varnish and Powercolor powder pigments will ensure a weatherproof paint that can be used for your outdoor project.
Can I use Stone Art projects outside?
I have successfully used Stone Art clay in a small outdoor sculpture and it appears to have weathered the storm! A glass bottle creates a base and add layers of Stone Art clay to sculpt the hare. Wire pieces created the ear shapes. The Stone Art clay needs to dry thoroughly so there is no moisture inside the clay. This piece used a coat of Powertex medium to seal it before adding additional colour. Powercolor pigment mixed with Easy Varnish was used for dry brushing on the colour. The Varnish protects the colour pigments. Remember that Powertex or Easy Varnish should coat all the surfaces completely to provide a weatherproof finish. Additional coats of Easy Varnish can be added if you want to add extra weather protection.
How do I make a large sculpture for my garden?
The techniques are really the same whatever size your project. Think about the frame or base you need for your project and create that from natural materials such as chicken wire or wood. Chicken wire can be shaped for animal and figure sculptures if you have the right tools and safety equipment. Wooden bases or mdf can be constructed and coated with Powertex. Create your project as usual with wire, foil, plaster and fabric. All materials must be thoroughly dry before adding any layers of colour or varnish.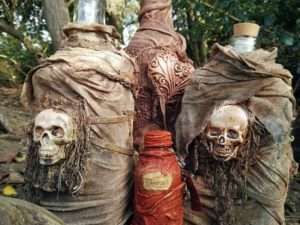 Can I use Bister for an outside project?
Bister pigments (spray and granules) have a very particular finish that's hard to get with any other product. However, it's not permanent or lightfast so my project could look bleached and colour can even run off when it gets wet. Your art will need to be protected. If you would like to try Bister on a project for outside try these tips:
Use a varnish that's weatherproof with UV protection to protect your colours,
Use a spray-on varnish, a brush on liquid might reactivate the Bister and make it bleed,
Test a small area first to see how it reacts.
What projects can I create for outside?
Anything you create for inside you can also create for outside! Specific outdoor projects might include:
house numbers or names
decorated planters or flower pots
garden sculptures such as animals, birds or figures
wall art, plaques and signs
LED lanterns or tree decorations
birdhouses or feeders
patio or porch fairy houses
Your imagination really is the limit so whatever your style, have a try at making something for your outdoor space.