Powertex Universal Medium can be used on almost any surface and for a range of art or craft projects. As people explore Powertex in their own projects, questions come up.
Using Powertex on plastic and other questions
Here are some of the questions I've come across as a Powertex artist and tutor, about using different materials with Powertex.
When I say "Powertex" I mean Powertex Universal Medium.

Can I use any fabrics with Powertex?
The quick answer is yes but not all fabrics will behave the same! Natural fibres work the best with Powertex if you're looking to create a solid sculpture or texture. The more synthetic fibres in the mix, the less the fabric will harden. Aim for at 70% nature fibres for the best results. Synthetic fabrics will remain pliable even when cured. They will also be less weather resistant so keep that in mind if you're creating something for outside.
If you're using Transparent Powertex with fabric it's worth doing a test piece first as it might darken the colour of your fabric.
Can I use Powertex on plastic surfaces such as toys or embellishments?
You can use Powertex but it WILL peel off plastic surfaces. Soft plastics can be particularly unstable. If I pour my Powertex onto a plastic plate and leave the leftovers to dry, the Powertex appears to stick to the plate. I can turn it upside down even. However it starts to peel away if I bend the plate or with minimal help from a palette knife. If you want your project to last, to go outside or certainly if it's for sale I recommend you prime your surface or use something else. 
Plastic shapes such as flower pots, bottles or boxes can be primed using masking tape which provides a surface suitable for Powertex. On intricate items this may not be possible. Spray primers for plastic are available for these type of projects if you need your work to be lasting.
I've heard of using Gesso to prime. Lower quality gesso contains more acrylic so it may not be a reliable primer. I've heard hairspray also suggested. I haven't tried this and I'm sure it would work. However, the silicon content of the hairspray might not be the best base for your Powertex either if you want a project to last. For short term projects these methods will work very well.
Will Powertex stick to glass?
Yes it will. The Powertex may bead on first application, particularly if the glass is very clean. A repeat application will solve this. Masking tape can be used if it can be hidden and is useful for bottles and wine glasses. If you're using a fabric wrapping technique be sure your fabric is not over saturated with Powertex.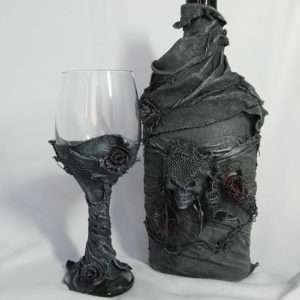 I've heard it's weatherproof but what does that mean? If I decorate glasses can I wash them?
Powertex Universal Medium is weatherproof and water resistant when cured (after 3 weeks). It is not waterproof. Projects for outside should be made with Powertex and natural fibres (including paper and card) or coated fully with Easy Varnish.
Projects like goblets can be rinsed with warm water and left to dry but should not be submerged in water. Warm water may cause the Powertex to soften but it will return to it's previous state when cool.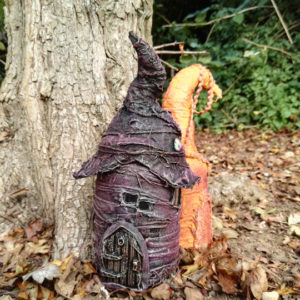 Are Powertex products safe for use with candles?
I strongly recommend that LED candles are used with Powertex projects. There are products that would be flammable in contact with candle flames such as Stone Art and Easy Varnish. LED candles are available in a wide range of styles, colours and sizes and are a safer alternative.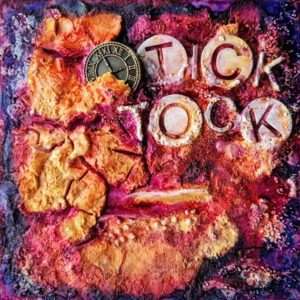 Powertex products are versatile and wide reaching and Powertex artists are stretching its use all the time. I recommend a browse of Pinterest or Instagram for ideas if you're new to Powertex. I also have an article here for Powertex beginners.
If you have any questions about using Powertex please leave me a comment below and I'll do my best to help.