As you might imagine, when I started out with Powertex I dived in, playing, experimenting and making mistakes along the way. I've learned from those early messes and I want to share my Powertex top tips with you. If you're new to Powertex maybe you will find them helpful.
My top tips for beginners with Powertex Universal Medium
Pour out a little onto a plastic plate
Pour out a little at a time (it can't be put back in the bottle)

Use up left over Powertex to coat embellishments or mix with Stone Art into clay

Any Powertex dried on the plate can be peeled off so you can reuse your plate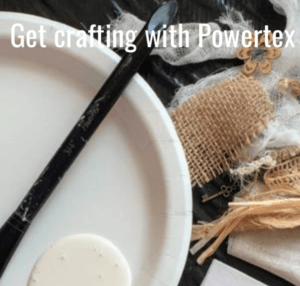 Invest in a bottle opener
Wipe the neck of the Powertex bottle and lid after use

Stuck lids can be loosened with hot water over the bottle neck

Invest in a bottle or jar opener for stubborn lids
Coat your fabric
Coat your fabric, don't saturate it

Dip a section of your fabric into the liquid and then massage through with your fingers

Use a paintbrush with fine fabrics and textures
Let gravity and Powertex do the work in fabric sculpture
When draping fabric, let it fall naturally

Pinch small areas near the top to create folds

You have a working time of an hour to adjust your wet layers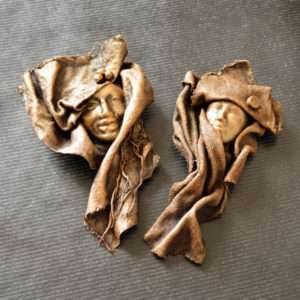 Use natural materials
For canvas art or sculpture, choose natural materials for best results

Try cotton fabrics and threads, wood, card, heavy paper, glass, metal and cork

Powertex will peel off plastic items, so prime first with paper tape or Gesso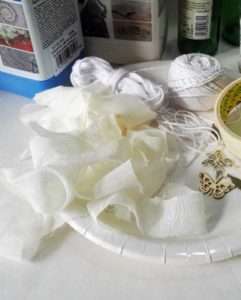 Use sprays with Ivory Powertex textures
Create lots of varied textures using Ivory Powertex to coat, shape and glue your materials

Use spray colour of Bister or acrylic ink

Let the fluid colour run randomly around your textures
(I wrote a blog about how I use Bister and Ivory Powertex art here).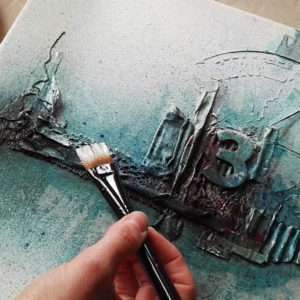 Use the right colour products for your project
Paint fabric sculpture with a dry brushing technique of Powercolor and Easy Varnish mix

Use Bister or Acrylic ink sprays on textured canvas art

Mix colours from Powertex Universal Medium for fun mixed media art and craft projects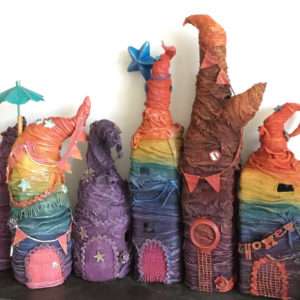 These are my top tutor tips for beginners using Powertex but I'm sure you have your own. If you're just getting started with Powertex you might find this article about supplies helpful too.
If you're a Powertex beginner, take a look at my eBook, "Get Crafting with Powertex". This guide tells you what you need to know to start using Powertex Universal Medium with confidence at home. It includes these tips and lots more to get you started.
If you're not sure what to create with your Powertex, take a look at my free downloadable Guide to Getting Unstuck with Powertex.
The Powertex UK Mixed Media Magazine has lots of project ideas and I have some Powertex articles for beginners right here.
Widget not in any sidebars