As you might imagine, when I started out with Powertex I dived in, playing, experimenting and making mistakes along the way. Some time later I've learned from those early messes and I want to share my Powertex top tips with you. If you're new to Powertex maybe you will find them helpful.
My top five tips for beginners with Powertex Universal Medium
Pour out your Powertex onto a plastic plate
Pouring out a little at a time is good advice as it can't be poured back into the bottle but putting it into a plastic dish, plate or container has been great for me. If I do have any left over Powertex I leave it to dry on the plate. It can then be peeled off to use as texture in another project. This works especially well with dried Rust mixture. Of course you might have another project you can get started on too. The plate can then be reused too.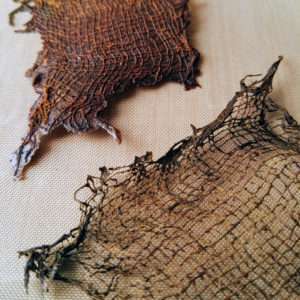 Wipe the bottle neck
Always wipe the neck of the bottle clean before you close it. Ok, it's no secret to Powertex users that the lids can be, well, frustrating to open! This is because Powertex can dry in the screw top lids and leave them stuck fast. A jar opener can also help with these stuck Powertex lids or warm them under the hot tap until they loosen. I try to prevent them sticking in the first place by using a fabric piece or rag to wipe any drips.
Coat your fabric, rather than soaking it
When working with Powertex on fabric it's easy to dunk the fabric in to make sure it's all covered but it's not needed. Your fabric should be coated but not overly wet. Too much Powertex will take a long time to dry and could weigh down your fabric when you want to create your textures.
Let gravity and Powertex do the work
Like many creative people I can get fussy about the details. I sometimes play and fuss over things until they seem just right. Using Powertex with fabric needs us to let go of that! Imagine how beautiful curtains fall in folds or how a long dress drapes over curves or gathers on the floor, no fussing required. Add Powertex to your fabric and then let gravity and the fabric do the work. No fussing required. Beautiful sculptures are effortlessly dressed.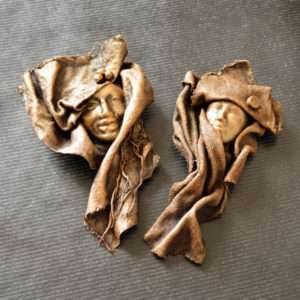 Use sprays with Ivory Powertex textures
This has to be my top tip. I love to use Ivory Powertex and I was used to working on a white "background" and adding colour and layers. So when I started creating three dimensional projects with Ivory I was really disappointed. They looked weird and sort of dirty and no matter what I tried I had a big mess. Eventually I realized my mistake (I wrote about that here) and I learned to use Powertex Bister sprays for the best effects.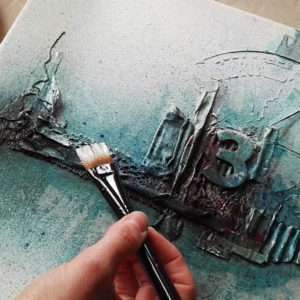 These are my top tips for using Powertex but I'm sure you have your own. Leave me a comment if you'd like to share yours.