Start at the beginning
Do you need help with your Powertex supply list? Powertex projects are varied and versatile and the range of products goes way beyond fabric hardener. So how do you know where to start? Tutors here in the UK run workshops or sell kits to get you started but if that's not for you, maybe this guide will help.
There are simple techniques you can do with a bottle of Powertex medium and some natural fabrics. This is where most people start out by learning the basics and then building on this. Fabric wrapping or sculpting is a great place to start.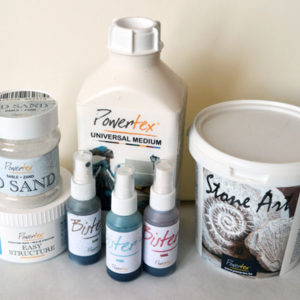 What if I'm more into mixed media and canvas art than fabric sculpting?
If you're already working in mixed media but want to scale up your work, create something for outdoors or explore new ideas then scroll down for product suggestions for mixed media projects.
Supply lists
It's important to mention that like all wet media, it's good to protect your clothes and work area and use tools that are easy to clean. Gloves are not essential for working with Powertex but can be useful if using your hands to apply it.
Tools
Gloves are useful but not necessary

A plastic dish or plate can be reused

A non stick surface to work such as a silicone mat or pvc cloth

A flat paintbrush 3/4 inch works well for dry brushing techniques
Fabric wrapping and sculpting
For the basic fabric wrapping or sculpting technique add these to your shopping list:
Powertex Universal Medium in Black or Bronze

Easy Varnish

Powercolor or Colortricx pigments of your choice
These are the minimum requirements for this technique but they can do a lot. A 1kg bottle of Powertex will go a LONG way and stores well if you keep you lid on. Easy Varnish is a staple product when using powder pigments. It's consistent, makes a good dry brushing mix and you can mix a weatherproof paint for hardwearing and outdoor projects.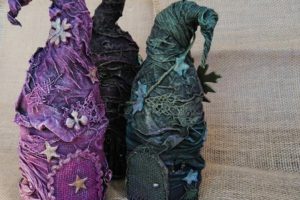 In this photo, I have used Black Powertex on jam jars for small fairy houses. I used, Burgundy, Green and White pigments. Choosing a metallic pigment to start is also a brilliant way to get amazing results. Dry brushing uses a flat brush to colour the raised areas of the textures.
Other materials
Cotton fabric pieces in different weights and textures

A base to work on such as a clean glass jar, bottle or small vase

A wooden stand and plaster head for figure sculpture

Small embellishments (paper, card, plaster, light clay, wood)

Small pieces of masking or paper tape
A note about Black and Bronze Powertex, Black is often more liquid than Bronze. Bronze is also a warmer colour to use and gives your project a richer finish.
Classic figure sculpture
For creating classical style figures use Bronze Powertex and a metallic pigment. This is a simple but stunning combination popular with Powertex figure sculptors.
Figure base or stand

Plaster head

Bronze Powertex

Colortricx pigment of your choice (try Rich or Bronze Gold)
Ivory figures are also popular but can be challenging to colour. If you want to make an Ivory figure you might find this blog useful.
Powertex mixed media
Mixed media with Powertex is a huge variety of techniques and styles so if you're overwhelmed by choice, it can help to determine what you like first. Mixed media art is all about using a variety of media in your art but that doesn't mean you have to use everything in one piece either. Think about what effects you like to create. Will you use stencils or rust? Muted colours, soft blending or brights? Do you want organic texture or multilayered embellishments? What surface will you work on? Are you looking for deep textures and cracking on a canvas or board? Or something else?
On this blue canvas I tried Easy 3d Flex and Powerwax for the first time. I started with Ivory Powertex and some fabric pieces, layered Easy Structure and Easy 3d Flex and used shades of blue with the Powerwax to add colour.
These supply lists are my suggestions for starting out with textured canvases and mixed media projects but there are no rules here so if you have an idea, then go for it!
The tools will remain the same for working with mixed media projects and on canvas. Protect your work surface and keep some plastic gloves handy in case you need them. Plastic tools are best for working with Powertex as they will clean easily.
Mixed media Powertex projects with embellishments
These products will give you a dark background that allows you to apply layers of colour and highlights that really pop. Use wood, paper, metal and more to build texture and interest.
Black Powertex

Easy Varnish

Powercolor and Colortricx pigments of your choice
Consider:
Textured Powertex canvas art
Ivory Powertex

3d sand and balls

Easy Structure

Bister sprays for fluid colour
Consider:
Easy 3d Flex (clay and crackle)

Powerwax and Powercolor for soft colour blending

Rusty Powder

Acrylic inks
Add your own embellishments, natural textures and fibres. You don't have to plan your art first and Powertex is quite forgiving while wet so you can continue to play with your textures for a while. 
A note about texture products
It's always tempting to dive in and try everything at once and I would not want to dampen your creative spirit! However, it is not necessary to have all these products at first. So much can be achieved with Powertex Universal Medium and some natural fibres and embellishments. Many of your existing water based supplies will also work with your Powertex. Just remember that Powertex medium does not mix well with acrylic paint. Powertex is a paint, adhesive and fabric hardener so there's lots you can do with the medium on it's own too. Then add to your collection as you like. You will find new combinations of your favourite products.
There are tutors like me all over the UK to help you with your first Powertex project. In the meantime I have a few blogs here for Powertex beginners, you can find them here.
As a Powertex tutor and part of the Powertex UK design team, I get my supplies from Powertex UK. There are distributors of Powertex across the world and you can find a list of these here.