Painting with Powertex
It's no secret I'm a fan but I love painting with Powertex and I previously posted this blog about using Powertex in mixed media art. I'm going to expand on those getting started tips, to some of the techniques I use to create my artworks on canvas with Powertex products.
I first started out with a bottle of Ivory Powertex Universal Medium, a tub of Stone Art and a few pigment powders. I applied them directly to the wet Powertex. Take a look at my first experiment with Powertex on canvas! I really loved the colour blends and light textures from the stone art and I wanted to see what more I could do.
There's not much texture there, you might say. You'd be right but in these shallow textures I was beginning to see how the materials worked and what could be possible. The process of playing cannot be underestimated!
Why use Powertex medium?
I like to use texture and other media in my painting and to recap, Powertex has some unique properties. Here's a reminder:
Powertex Universal Medium is a fabric hardener, adhesive and paint that's a fantastic art supply for 3 dimensional creations. It's also brilliant for creating textures on flat surfaces.

It's water based, non toxic and environmentally friendly so that ticks another box for me.

The adhesive quality of Powertex is strong enough to support fabric, plaster, wood and metal layers and for mixing with natural textures.

Powertex has a slow drying time which allows lots of time to experiment.

It's versatile enough to use for a range of projects from gallery art to garden features to seasonal decorations.
Here are some examples of textured art I have created using Powertex products.
Adding colour
Different colours of Powertex medium can be blended directly on the canvas and marbled on the surface. Colour can also be added with Powertex Bister sprays and powdered pigments such as Powertex Powercolor. Powder pigments can be mixed, sprinkled, brushed, stirred and rubbed into your textures or mixed with Easy Varnish or Powertex to mix a paint. Your acrylic inks, paint and sprays are also compatible although these don't usually mix well into Powertex. Oil based products are not compatible with Powertex Universal Medium. 
Adding texture
So this is where Powertex really comes into it's own. With the exception of plastic, pretty much anything can be added to your canvas. Use Powertex texture products for compatible and interesting textures or layer your own fibers, papers, fabrics, cork, leather and wood.
Adding Powertex Stone Art powder to wet Powertex is a simple technique. Pressing the powder into wet Powertex and rubbing away the excess leaves coloured Powertex muted and misty looking. Build layers for an authentic stone effect. Alternatively, spraying thicker layers of Ivory Powertex with coloured Bister sprays is an explosion of intense but muted colours that will crackle when heated gently with a hairdryer. Bister granules are a whole new result when sprinkled onto your Ivory Powertex!
The range of Powertex texture products such as Stone Art, Rusty Powder and Easy Structure create beautiful results. Experiment with what you are drawn to.
Try these Powertex canvas ideas
Here's some examples of techniques that I've used, so pick something that appeals to you and have a go.
Create a textured surface with Easy Structure paste with shaped tools or a stencil and paint with Powertex when dry.

Use two different colours of Powertex and stir them into each other on your surface.

Adhere torn pieces of corrugated card, heavy handmade papers or fabric to create layers.

Mix up some Rusty Powder and 3d sand for authentic rust textures (more on this coming soon) and apply with a palette knife.

Press Stone Art into wet Powertex for a softer surface and build up layers for a "stone" surface.

Alternate texture and colour layers for lots of detail.

Use Powertex and fabric to sculpt on the surface (see below).

If you love crackle, invest in some Easy 3d Flex to mix with your Powertex. Then you'll want to try Powerwax too! (Also used below).
Where do I start with Powertex?
Don't get overwhelmed, with just basic supplies you can use some new techniques for great results. So what do you need? Well it depends what you want to achieve of course but these are a good start.
A bottle of Powertex Universal medium. I recommend Ivory for working on mixed media canvases but if you prefer a dark base to work from choose Black or Bronze. White is available but note the consistency is thinner so I prefer Ivory.
Powercolor powder pigments are the most versatile way to get colour into your work. Choose a starter palette or three colours of Powercolor that are close to your usual favourites.
If you get Powder pigments, add some Easy Varnish to your basket. This mixes with your pigments to create a quick drying paint.
You don't have to buy texture mediums to start as textures are easy to source from your stash to the remnant bin to the recycling box. If you want to add something special pick your favourite effect and start with that. Sand (3d sand) and Stone (Stone Art) are the obvious choices to start but try Rusty Powder or Easy 3d Flex for specific results.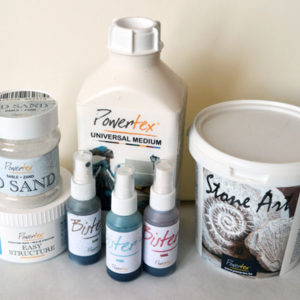 Just dive in! Drop me a line if you have a question about anything I've mentioned here and I'll do my best to help. Don't forget if you're in the UK you can get your supplies here. (As a Powertex tutor, this is where I buy my supplies.)
If you are new to Powertex you may want to read this or browse these blogs for some more ideas of what Powertex can do. Head over to the Powertex UK blog for inspiration from the Powertex UK Design Team.