Creative Secrets with Kore Sage
Creative secrets usually runs at the end of the month but there are some changes coming!  One of the first things I wanted to do this year was share a little more of what makes me tick, what makes me make art and something of the challenges I've faced. On the internet it's easy to get lost in the insincerity of it all, the carefully engineered posts, the filtered photos and the shine of the overly edited life. Obviously I don't want to put my ugliest self on the internet and I like a little privacy, but being more relatable isn't such a bad thing! So here goes, I'm sharing this month's Creative Secrets, about me.
Kore Sage from Kore Sage Art
Many artists and crafters start young but not all of us. When did you start creating and what is your earliest memory of making art or being creative?
My childhood birthday or Christmas gifts were almost always an art supply or something to make. Do you remember those pots of powder paint that were around in the 70s and 80s? Well apparently I painted the tv a nice shade of Magenta with this when I was little. I couldn't say my earliest memory but I do remember lying on the living room floor colouring in posters and also sewing heart shaped buttons onto pink aida that I gave to my neighbour. 
Did any experiences in your childhood or adulthood influence how you put art and creativity into your life as an adult?
Unfortunately a less-than-supportive comment on a drawing I did when I was small left a lasting impression. I didn't stop drawing or making but I didn't like anyone to see it. At school, I failed my art GCSE and I more or less stopped making art. I made just a few drawings and tried a bit of cross-stitch over the next 15 years. It took an experience in my adult life to bring me back to art and I haven't stopped since.
When you create, do you plan first or go with the flow? How do you make time to create?
I usually have some idea in my head when I start but I'm very spontaneous so will go with whatever happens. If I don't have some sort of starting point, I can spend too long deciding on materials or colour or just get overwhelmed by the freedom of it all! Keeping journals and sketchbooks is good as I always have a place to go for inspiration without getting lost in the internet. I have to plan art time in my week but if an idea is really buzzing then I try to get to it as soon as I can!
Do you have a favourite product or medium to work with and why?
This is so difficult to answer. I'm drawn to lots of things and love them all for different reasons. However, if I had to choose I would say Powertex with Rusty Powder because they have really influenced my art in a big way and they do so much! I'm also a fan of acrylic inks because I love the organic flow of these and they have such intense colour.
I know you as a Powertex tutor and artist. Do you have other creative interests that you enjoy or something you would like to pursue?
I tried a number of crafts when I was younger but none really stuck. I love to draw still, including digital art and I keep art journals. In cold winters I've been known to crochet blankets. I'm intrigued by handmade books and junk journals although I'm not sure I have the patience for book binding. I think my next adventure will involve encaustics and how to combine this with my current techniques and materials.
Tell us something about yourself and your art work.
Hmmm, something about my artwork is that all my art contains tiny secrets of some kind. Maybe some writing, significant numbers or letters, all hidden in the layers. They are a message from me to the painting and to the recipient. I've even done this with my Powertex fairy houses!

As for me, there's lots I don't share out here in internet land. Maybe some people would guess but I'm a total geek. My interests are art, learning techie stuff, gaming and listening to rock music. I used to think this was an odd combination with art but there are lots of us nerdy artists out there! Actually I just thought of something, thanks to years of dance lessons I can tap dance. I don't think anyone would guess that!
Tell me about a favourite piece of work you have created. What was it, why was it so special and where is it now?
I entered a large canvas for my first Open House opportunity. It was brightly coloured with flowing lines. I was thrilled it was suitable to be hanging in the exhibition. It sold on the first morning and was a turning point for my confidence. The last I heard, the painting was hanging in a dance studio but I never met the buyer.
What are the benefits of having a creative practice in your life? For you or for others?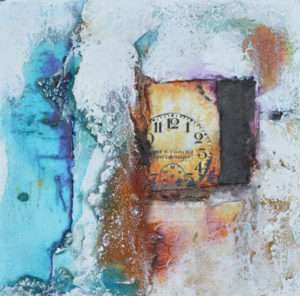 For me, the power of a creative practice cannot be underestimated. I experienced a period of very poor mental health during my 30s and as cliché as it sounds, I believe making art saved my life. During a long time of fear, isolation and health challenges, drawing and my journals were a safe place where I picked through the pieces of my life and gathered my strength again. I also found a sense of community, online with mixed media artists that was lacking in my daily life.
So while making art and crafting can have positive benefits it can also come with some challenges. Do you have any advice for coping with loss of creative mojo or feeling self doubt when making art?
I think most creative people understand this feeling but it can be for many reasons, so it's hard to offer advice. Loss of motivation is especially hard if you thrive on your creativity or rely on it for income. "Keep going" is good advice that I wish someone had given me.

If you have a deadline, permission to take a break and refuel can work wonders before you power through. If you are usually hard on yourself then a kick up the backside and a firm hand may not be the answer. Try a gentle approach to self care and nurture your body and spirit if you are prone to self doubt. Your creativity will grow with the right nourishment. Personally, I take a walk to the beach, clear my mind, fill my heart and then try again.
So, who is your biggest cheerleader in your artistic life and do you think it's important to find a creative community?
Without question my partner. He's a musician and has an understanding of my artistic temperament! He does not "get" my art at all but his encouragement and support to do what I love and live my creative life has been without limits and I'm grateful daily.

I think community is a huge part of living a creative life, whether you are just starting out or are deeply embedded in making a living as an artist. So many of us make art alone that it's important to reach out and share, not just our art but our experiences with others, to reduce the loneliness that we can feel. Online communities are great for this but there's something about finding a kindred creative spirit in real life that's very special. 
Thank you for reading my creative secrets! If you'd like to read the Creative Secrets of other Powertex artists you can find them here. Or if you're a Powertex tutor and would like to share your Creative Secrets why not drop me a line?!

Create your own user feedback survey