Creating a textured Powertex landscape
Did you see my Powertex landscape blog in June for the design team? The theme was Italy so I created a textured landscape on canvas, inspired by those beautiful Venetian rivers. This project was originally featured on the Powertex UK blog.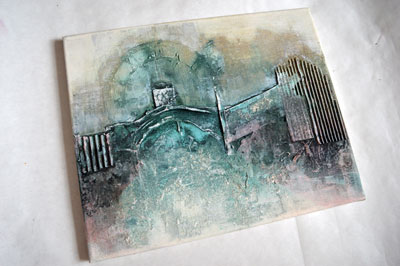 My project is a dimensional canvas. I'm using card, paper, fabric and texture mediums to create the landscape and bister sprays for muted colours with lots of atmosphere. 
Ingredients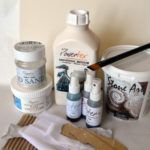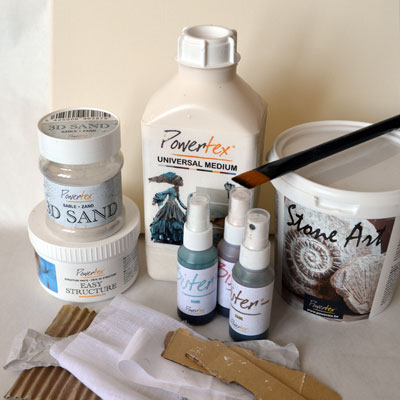 Canvas or board
Powertex Ivory
Fabric, paper and card pieces of your choice,
include embellishments, lace or wooden pieces you like
Powertex Easy Structure
Stone Art
3D Sand
Bister sprays in Blue, Brown and Red
A flat brush
Large pieces of pieces for tearing as masks
A stencil or circular piece of card
Step 1 Laying down your texture
Prime your canvas with Ivory Powertex. I'm using a rectangular canvas approximately 28cm x 35cm. Choose fabric, paper and card pieces to use as textures. I'm using shapes that give the impression of buildings and a bridge. Watch the video for more details.
Use Powertex to coat and adhere the pieces and create lots of texture in any fabric or papers. Apply Easy Structure to lower parts of the canvas. Use a palette knife or plastic card to scrape it down. When your textured pieces are in place, leave it to dry.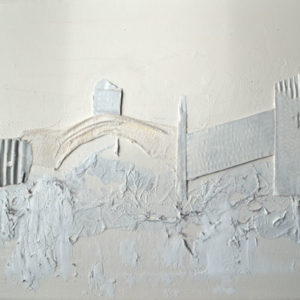 This video gives you a speedy glimpse into how I put my first layers of texture down. You can see I had a couple of pencil lines on my canvas to help me but this isn't necessary. It's also upside down to you!
Step 2 Adding textures with Stone art and 3d Sand
When it's dry you can add more textures as you like. Using Stone Art and 3D Sand adds lots of organic textures.
Brush some Ivory Powertex onto the "buildings" and "bridge" shapes. Sprinkle the Stone Art onto the Powertex, be generous, then press into place. Gently brush away any excess Stone Art with your fingers. It can be put into a container for use later. Repeat this until you have a raised rough texture on the buildings.
I've also added Easy Structure above the bridge and then pressed a circular stencil into the paste for texture. Any stencil will work but wash the Easy Structure from your stencil straight away.
Daub on some Ivory Powertex in areas where you would like a finer texture and sprinkle 3D Sand onto it. When sprinkled onto wet Powertex the 3D Sand is best left to dry before the excess is brushed off.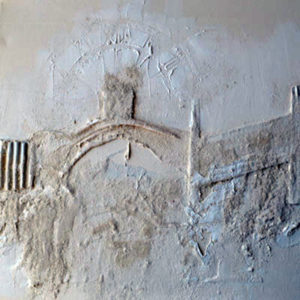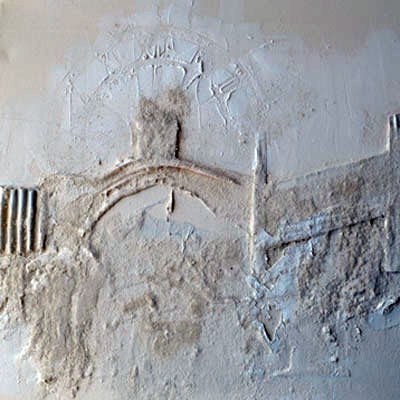 Step 3 Adding colour with Bister
When all the textures are dry it's time to add colour. I'm using Bister sprays. The water based ink runs into the textures making dark shadows and picking out all the textures in the surface. I've chosen blue, brown and red for my project. The muted colours of Bister work really well for this landscape.
Spray the Bisters generously onto your canvas. Focus mainly on the textured areas and use torn paper scraps to protect areas you don't want coloured. Overlay colours while wet.
Use a wet cloth to wipe away Bister from the raised areas to create highlights. When dry, use a brush to add Ivory Powertex for highlights or to lighten other parts of the canvas. I brushed a little at the top of the canvas and also over the "water". 
This canvas is deep in textures and the muted colours are atmospheric and soft. The techniques used are simple but this project needs some drying time between layers. It's great if you have a little time each day to work on something.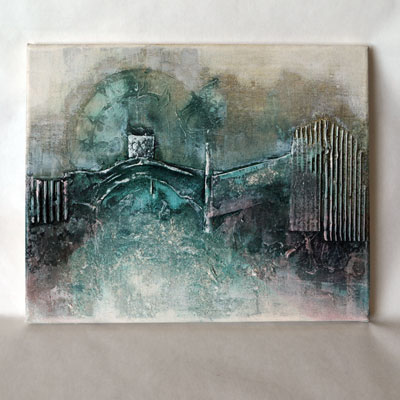 If you have some fabric and card scraps, try combining them with Powertex products for a textured canvas. You can use a photograph for inspiration or just play with textures on a canvas with no goal in mind. This project is great if you love abstract textures and happy accidents!
If you're new to Powertex here is a good place to get started!