Autumn will soon be here and I love the change of the seasons. This project was originally created for the Powertex UK design team and was published in the online magazine back in 2018. I dusted off my wreath to display for autumn and thought I'd share it here.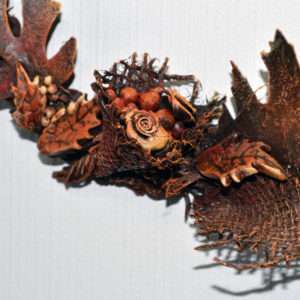 How to make an autumn wreath with Powertex fabric hardener
Supplies
Bronze Powertex fabric hardener
Easy Varnish
Flat brush
Fabric strips and lengths of t-shirt yarn, ric rac, twine etc
Leaf shapes in various materials such as clay, fabric, card and heavy paper
3d balls in small and medium
Optional materials such as:
Stone art
Daisy leaf mould
Small fabric flowers
Create a frame
You can use a pre-made polystyrene base for your wreath or a piece of tubing. I chose to make mine from a piece of t-shirt yarn. This also means I can make it the size I want.
I massaged Bronze Powertex into a length of t-shirt yarn to create my frame. Once it was all coated I laid it out in a circle on a non stick mat to dry. Notice I overlapped the ends to create a loop at the top for hanging.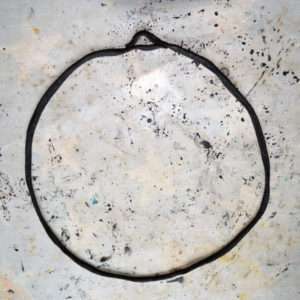 Create your autumn embellishments
I created a pile of embellishments to use while my frame was drying off. Leaves can be die cut or hand cut using stiff card and hessian fabric.
Some small clay leaves can be made using the Daisy leaf mould and Powertex Stone Art clay. These leaves have a lovely spiky shape that looks amazing when painted. Stone Art clay leaves need time to air dry thoroughly.
Coat all the card leaves with Powertex and sprinkle on some Stone Art powder for texture. Brush off any excess. Paint the leaves with Powertex when you apply them to wreath.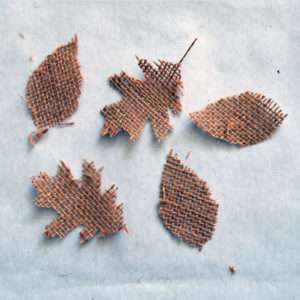 Make a cornucopia
I also made a tiny cornucopia or horn of plenty. These are a symbol of abundance and thanksgiving and they are easy to make. You could make them in different sizes too.
Coat a small triangle of hessian with Powertex fabric hardener and roll into a cone shape and press the edges together. A few small and medium balls painted with Powertex fill the cone. Paint tiny fabric flowers with Powertex Bronze and trim the stems short enough to tuck into the cone. Leave to dry. (If they want to uncurl, use a pin to keep in place until dry.)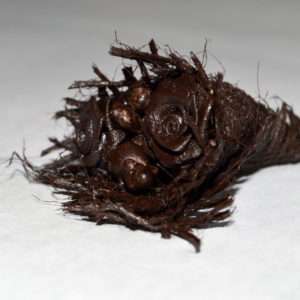 Wrap your frame
While your embellishments are drying, wrap strips of fabric around the frame in spirals. Ensure your strips are well coated with Powertex, especially if you want to display your wreath outside.
I started with strips of hessian about 1- 1.5 inches wide and wrapped them loosely around the hardened frame. Then I wrapped more t-shirt yarn, raffia, twine and ric rac (coated with Powertex) until I was happy I had plenty of texture. Don't wrap your last layers too tight, we're going to use them to secure the leaves.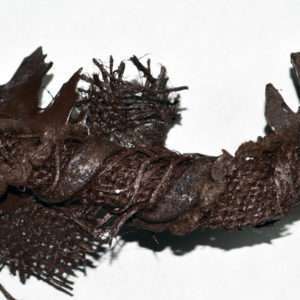 Attach embellishments
Add your leaves starting with the largest first and work around the whole wreath. Tuck one end of each leaf into the wrapped spirals on the frame and press them into place. Use dabs of Powertex if you need a little extra glue. Keep adding leaves until you're happy. Varying the sizes makes it more interesting to look at. Add small details to create more interest, such as the small cornucopia and groups of small balls for berries. Leave to dry.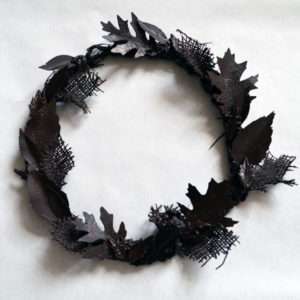 Using pigments to add colour
Choose your autumn Powercolor pigment colours and mix with Easy Varnish to make a dry paint. I used Burnt Sienna, Yellow Ochre and some Orange and White for mixing. Start with darker colours first, add highlights last using your palest colour. Use a flat brush, wipe excess paint onto kitchen paper first and then keep your brush flat as you brush over the textures. Build up layers of colour for the best results.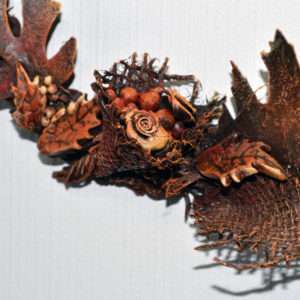 Finishing touches
Use the loop at the top to string or hang your wreath. After three weeks it's weatherproof and safe to hang on your front door. I'm already planning my seasonal winter wreath!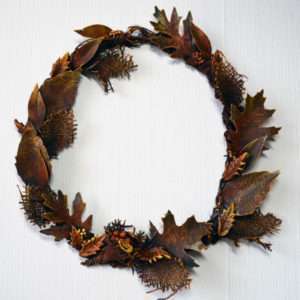 I hope you'll have a go at making your own wreath. Making your own frame to your own size is easy with Powertex fabric hardener. Customise for a Christmas or Spring home decor or create different sizes.
I'm a Certified Powertex tutor and get my supplies from Powertex UK. You can find out more about Powertex fabric hardener in this article. You might also be interested in my other Powertex tutorials.
If you like this project or have found something useful, please consider supporting my Powertex blog. You can find t-shirts, mugs, cushions and other gifts for crafters in my Redbubble shop. Thank you.