August 2020 at the art table
My art table reflection in August 2020 and the Powertex art continued on the art table this month with two more pieces. One in neutrals with Black Bister and one with Green Bister. The green one was a huge surprise to me as I rarely use greens in my art but I liked it's misty, reflective atmosphere. It was certainly the most popular on my Instagram account!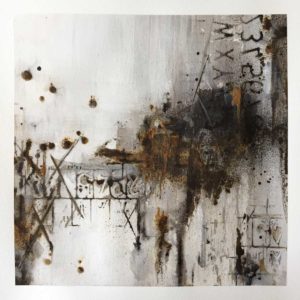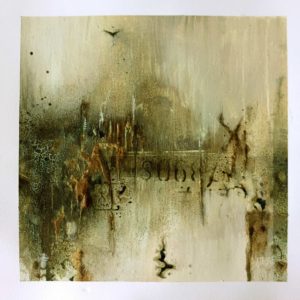 The small Facebook group had access to four videos this month demonstrating how these paintings were created. For everyone, a full low price, step by step tutorial will be available next month.
The sketchbook
I finished up the last few pages in my large square Seawhite sketchbook while playing with acrylic inks. I sometimes have a sense of urgency towards the end of sketchbook. A desire to complete the book and get to the fresh new one with blank pages full of possibilities. I have unfinished books from long ago and their wasted pages bother me! Indian Yellow, Flame orange and Muted Purple, my usual favourites came out to play with no agenda or plan in mind. Autumn feels like it's waiting in the wings here on the south coast and these colours seem to fit.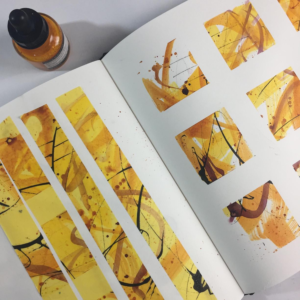 That 'back to school' feeling
I've ordered a book called Perfect Palette by Lauren Wager. It's been on my wish list a while but I was inspired to take the plunge after seeing a glimpse on Instagram this week. It's focus is on colour and mood and this appeals to me as I look for a new palette. This summer has been all about expressing energy from the fiery orange storms to the reflective calm in the Green Bister painting. I hope this book will inspire me to try something new as Autumn arrives.
As September comes up there's a sense of "back to school" as I get a new sketchbook and start to focus again after a quieter time. Work on this website continues in September including updating the neglected About page and reviewing the problems I'm having getting the online shop running. I'll be writing some new Powertex resources on using Rusty Powder and hopefully getting painting again!
The free guides to Powertex have been getting lots of attention this month and they are still available. Keep an eye out for the Quick Guide to Rusty Powder!
Until next month from my art table,
Kore