Have you got a bottle of Powertex Universal Medium in your craft supplies? Are you overwhelmed by the possibilities?
Yes I understand. You buy that shiny new product at a craft fair or on a shopping channel. By the time it reaches your craft table you've forgotten the brilliant idea you had and there's already a half finished project on your non-stick mat. So you put down the shiny new thing and there it stays. Don't waste it! It's easier than you think.
5 Powertex projects for beginners
Powertex can do so much it's hard to know where to begin. These may even look too tricky but I assure you, you can make these 5 Powertex projects! It's easy to get amazing results.
So here's five easy project ideas for beginners that can get you started.
1. Fairy house
Fairy houses are a staple for Powertex addicts everywhere. Use a jam jar and cotton fabric pieces with bronze Powertex to create this delightful fairy house. Make the roof with foil or clay onto the lid. The door can be made with card or fabric or using a plaster piece like this one. After adding colour with Powercolor or Colortricx pigments and Easy Varnish these cute little homes are also weatherproof.
2. Fabric brooches
Brooches can use up fabric scraps, are super quick and simple and have plenty of wow factor. Create your brooch with scrunched Powertexed fabric on a non stick mat and add an embellishment. 

Use Powertex and fabric to secure the brooch pin.

 Choose a dark coloured Powertex and metallic Colortricx dry 

brushing for maximum impact!
3. Bottles and bister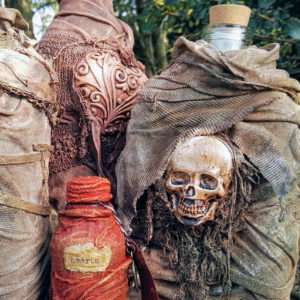 This project uses the same fabric wrap technique as the fairy house. Use Ivory Powertex to fabric wrap bottles and add embellishments. Instead of using pigments and Easy varnish to colour, use Bister sprays. The sprays really show off deep textures. Ivory with Brown Bister gives a brilliant aged effect. Easy to do but looks really impressive.
Get some tips here on using Bister sprays.
4. MDF Kits and shapes
Kits and MDF shapes are great for mixed media projects and are available from Powertex UK and craft suppliers. Just add Powertex and fabric to create textures and stick embellishments. Mix powder pigments such as Powercolor and Easy Varnish for colour. There's lots of scope to add items from your craft stash too. These make impressive wall art or even a clock. You can choose a shape and colours to fit your decor. Read my blog about this Seahorse project here.
Read more about using mdf shapes with Powertex.
5. Potion bottles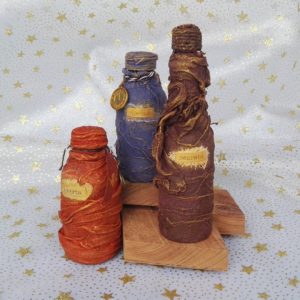 Save interesting bottles for a bright and easy project. Fabric wrapping bottles is simple but use brightly coloured Powertex and dry brushing with metallic pigments for something special. These potion bottles were made with little sauce bottles and red and blue Powertex. I used string for the lids and added paper labels for a finishing touch.
Find out about mixing Powertex colours.
Advice for beginners
Grab your Powertex and give it a try. If you need a little help with the details, the Powertex UK blog has lots of step by step projects to guide you through. You can also find your local tutor if you're in the UK.
If you'd like some more project ideas to get you started you can download my free quick Guide to Getting Unstuck with Powertex.
Lastly a bit of advice. Powertex is a fabric hardener, it's a good idea to protect your clothes. It is non toxic and will wash off your hands but remove precious jewelery if you're not wearing gloves. Work on a covered surface.
Now go for it! Wine bottle gift? Textured wall art? Angel sculpture? Fairy door for the garden? Whatever your project, just start. If you're reading this and you're wondering what this Powertex stuff is I recommend you go here.
Widget not in any sidebars