Welcome to Kore Sage Art!
Were you put off making art when you were at school? Or maybe at home? Yes me too. Rediscovering art and craft as an adult unlocked a wonderful creative world and community to me. I've had inky fingers and paint splattered clothes ever since. I learnt new techniques on the internet and took drawing classes at night school. Getting messy with mixed media is completely absorbing but I'm just as happy curled up on the sofa doodling in my art journal. Oh and I'm a Powertex addict.

When I'm creating I can be seen, headphones on, dancing at my table to classic rock radio. When I'm not painting you might find me by the waves on Brighton beach or learning tai chi. I'm a total geek for Doctor Who and Buffy the Vampire Slayer.
We all go through tough times and creative activities can unlock benefits for our health and our ability to self care during those times. Whatever our creative outlet or level of experience, even a little art or craft in our lives can make a big difference.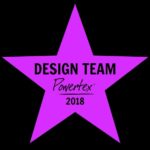 I'm a member of the Adur Art Collective, a Level 3 Certified Powertex Tutor and a member of the 2018 Powertex UK Design Team. You can find my monthly design team blogs over at Powertex UK. My Powertex demonstrations, mixed media workshops and tutoring run across Brighton, Hove and Shoreham-by-Sea as SkySage Studio. I also  exhibit and sell other artworks as Kore Sage Art.
---