Paint, Powertex and process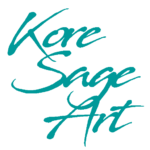 Are you looking for Powertex tutorials or a certified tutor to inspire your creations? Is your mixed media mojo in need of motivation? Do you want to use deep texture in your art or just find joy in your process?
Paint and Powertex come together here as Kore Sage Art. Welcome!
If paint, Powertex and mixed media are your creative ingredients you've come to the right place. Dive into my blog for my latest Powertex projects and mixed media tutorials. Sign up for my newsletter below to receive updates on my latest news and posts. You can also contact me if you're interested in a Powertex workshop with me or in purchasing any of the art you see here. Coming soon…. Kore Sage Art shop!
Sign up for the latest news
Sign up to be the first to hear about my new blog posts and news, like the launch of the shop or a new class. Nobody likes spam so I'll only be in touch when there's something great happening! Add your email address below.


Events
Events are either fully booked or awaiting listing. Sign up to the news or contact me if you are interested in a workshop.
My designs available on Redbubble
Mixed media techniques
Experimenting and mixing different media is what makes art so exciting and interesting. The results can be unpredictable but the creative process still feels like the best place to be. My go-to supplies include Powertex medium, structure paste, acrylic inks, charcoal, Powertex Rusty Powder and transparent papers. I use a lot of gesso! Almost all my recent paintings include tiny hidden messages, numbers or letters and a distressed, rusty or decayed surface is usually my aim. No surface is out of bounds with Powertex either! If you want to know about Powertex, this article can help or click here for Powertex UK.
Art journaling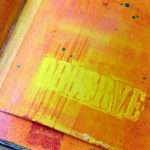 Art journals and sketchbooks are the keeper of quiet times for artists. We fill them with colour, pattern and line as well as thoughts, experiments and secrets. While practicing our art and testing our supplies, we pour our hearts into them as well as our paint. We drip, spray and layer until our souls feel whole again. Our art journals are a good friend as we work through that tough day. See how I use my journals to practice, learn and reflect.
"Art is not a thing it is a way."

Elbert Hubbard